DECEMBER 11th – 14th 2019
It's the most wonderful time of the year! Oh yes it is! Come join us for all the fun of traditional British panto. Fun for ages 5 to 95!
Jack needs to climb the beanstalk and defeat the giant or his mother's dairy is in trouble. Come cheer him on, boo the baddies, and shout "He's Behind You" and all your other favorite pantomime catch phrases as we deliver another fantastic seasonal pantomime to entertain all ages.
Performances run Wednesday 11th to Saturday 14th December at The Performing Arts Centre, The English School, Salmiya. Matinee and evenings available. Click here for full details and to book.
CLASSES AND MORE…
SIK KIDS DRAMA CLUB
Find out more about our Kids drama classes and apply here.
Classes for ages 5 – 15, take place in both Adan and Salwa and run once weekly, for ten week terms throughout the school calendar. Learn how drama education can build your child's confidence, empathy, public speaking, and social skills. We are now accepting applications for our January – March term. Find out more here.
ADULT CLASSES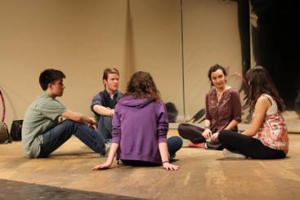 Wednesday night is Adult class night in the Adan studio. This term we are alternating Wednesdays between TRY IMPROV classes and WRITERS ROOM, writing workshop classes. If you are interested in developing your skills and joining us for a class find out more and sign up from the links above. Classes are 10Kd per session with a 50% discount for SIK Members. Find out more about becoming a member here.\
RECENTLY AT SIK
Browse some of our latest productions – and then come and get involved! Onstage or behind the scenes, SIK is YOUR community theatre. We can't do it without you. Come be part of the FUN.
IN REVIEW!
Join the fun on stage or support us from the audience for a fun night out. Check out our Vimeo.com channel to have a look back at some of our previous shows. All produced BY the local community FOR the local community.