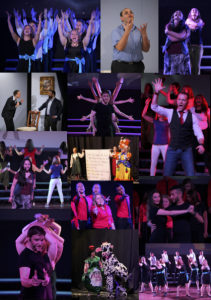 SIK Productions includes many faces that have become main stays of English language theater in Kuwait over recent years but what keeps SIK fresh is that every year we gain new members and get to showcase new talents to the audiences in the country.
The Artistic Director of SIK Productions, Tim Waddell, is a music and drama graduate with over 30 years of theatre experience and twenty years service to the performing arts in Kuwait. He has worked with Kuwait Players, The Kuwait Elizabethans, Ahmadi Music Group and Kuwait Little Theatre, both on stage and off as actor, director, lighting designer, choreographer and producer on numerous shows.
He is supported by a hugely talented ensemble team of volunteers who give freely of their time to bring exciting, live theatre events to the stage in Kuwait.
If you would like to join the SIK team in any capacity (we welcome all skills as community theatre needs seamstresses and singers, carpenters and choreographers, ASMs and actors!) please get in touch using the form below or join us on Twitter or Facebook.