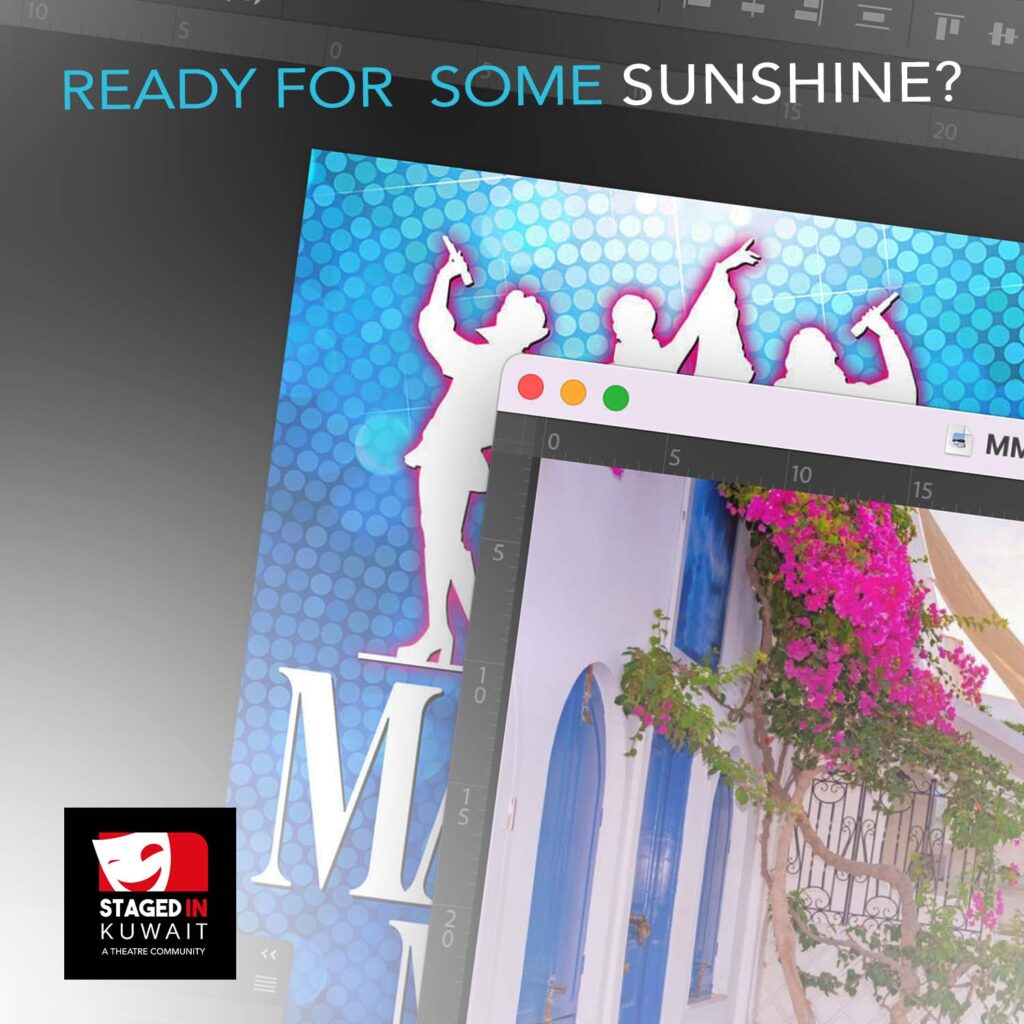 On a small Greek island, Sophie dreams of a perfect wedding — one which includes her father giving her away. The problem? Sophie doesn't know who he is! Her mother Donna, the former lead singer of the 1970s pop group Donna and the Dynamos, refuses to talk about the past, so Sophie decides to take matters into her own hands. Sneaking a peek in her mother's old diaries, she discovers three possible fathers: Sam, Bill, and Harry. She secretly invites all three to the wedding, convinced that she'll know her father when she sees him. But when all three turn up, it may not be as clear as she thought! Told through the legendary music of ABBA, Mamma Mia! has become a worldwide sensation that has audiences everywhere dancing.
This smash-hit musical based on the songs of ABBA includes many of the pop super group's most famous hits such as Dancing Queen, Take a Chance on Me, Money, Money, Money and, of course, the title song, Mamma Mia. It has been seen by over 60 million people worldwide and has played in more than 40 countries in six continents.
IN A SNAPSHOT
We're looking for a cast of around 24 adults (aged 16+)
Auditions will be held March 6th, 8th and 11th 2022
Rehearsals will commence Sunday March 13th
Mandatory Tech Weekend week will be 20-21 May 2022
Performances May 27th to June 4th 2022 at the AUS Performing Arts Centre
PERFORMANCES
Performances are planned over two weekends, May 26th – 28th and June 2nd – 4th in the beautiful AUS auditorium.
REHEARSAL COMMITMENT
Rehearsals, at our Fintas studio, will take place on Sunday and Tuesday evenings (7pm – 9pm) and on Friday afternoons from 2pm – 6pm beginning Sunday March 13th. A full schedule of rehearsals will be provided upon casting and you will only be called to rehearsal when needed.

For Ensemble members, commitment during the first month will be just Friday afternoon rehearsals then, from mid April, Fridays and one additional evening rehearsal until mid May when all cast will be required at all rehearsals.
Technical Rehearsal Weekend – for all involved – will be May 20th / 21st.
Please have all calendar conflicts for the rehearsal period available to note on your Audition Form. If you are unable to make the mandatory Technical rehearsal weekend we will be unable to cast you in this production.
AUDITIONS
All roles are open for audition (character breakdowns below) as well as places for a singing/dancing ensemble. Auditions will take place at our rehearsal studio in Fintas (SIK Studio map) on the following days:
PRINCIPAL AUDITIONS
Sunday March 6th 7pm – 9pm
Tuesday March 8th 7pm – 9pm
Friday March 11th – 4pm
ENSEMBLE AUDITIONS
Friday March 11th – 2pm – 4pm
Auditionees should arrive for a prompt start at the beginning of the session for an introduction and to learn the dance audition. Once you have auditioned you are free to leave.
PRINCIPAL AUDITIONS:
FRIDAY MARCH 11th 4pm
Those auditioning for a principal character role (solo speaking/singing) need only attend the Sunday or Tuesday session.
Auditionees will be asked to sing up to one minute of a fully memorized song that showcases their voice. (Please bring a backing track or web link to sing with.)
In addition to your prepared song, auditionees will be asked to sing a section of the ABBA song detailed in the character breakdown below, as well as additional vocalizing to determine vocal range and harmonizing skills. A short dance combination will also be taught, so please come prepared for movement.
Selected auditionees will be asked to do a reading from the script. You can download and review the audition sides below.
ENSEMBLE AUDITIONS:
FRIDAY MARCH 11th 2pm
We are looking for 12 confident performers (aged 16+) who will be involved in almost 20 ABBA songs as part of the show.
Those wishing to audition for the Ensemble should arrive prepared to sing the title track.
You can practice with this backing track: https://www.youtube.com/watch?v=iCt0fQlUw3c)
There will be a short movement/dance routine to learn which will be taught as a group.
No prior dance experience or training is necessary but we will be looking for the most confident 'movers' and singers for the Ensemble.
Auditionees who audition for principal characters and do not get cast may be offered roles in the Ensemble. There is no need to attend the Friday audition if you attend in the week.
CHARACTER BREAKDOWN
There are eight principal characters and four minor roles, and we'll also be casting an Ensemble of around 12 performers. No roles have been pre-cast; the casting process will commence with our open auditions.
The roles are briefly described below. Please note that the ages listed are as noted in the script and are indicative only. We'll need to match up the ages of certain actors so that their relationships are believable (e.g. Sam, Bill and Harry need to be of an age that could credibly make any of them Sophie's dad).
PRINCIPAL ROLES
Sophie Sheridan – Born and raised on the island where her mother runs the Taverna, Sophie wants romance and a big, white wedding. She'd love her father to give her away, but doesn't know who he is. Age: 20. Voice Type: Alto (F#3 – E5). Audition Song: Thank You For The Music
Donna Sheridan – Sophie's mother, she runs the Summer Night City Taverna on a remote Mediterranean island. She's a feisty and independent single- parent who doesn't need a man to complete her life. Age: 40. Voice Type: Alto (E3 – C#5). Audition Song: Winner Takes It All
Sam Carmichael – May be Sophie's father. An architect, his relationship with Donna many years ago ended with a fight – he left and married someone else, but that marriage is now over. Age: 40s. Voice Type: Tenor (D3 – A♭4). Audition Song: SOS
Bill Austin – May be Sophie's father. He writes books about his adventures travelling around the world, but is scared of the responsibility that comes with settling down. Has a Greek mother. Age: 40s. Voice Type: Tenor (B♭2 – F#4). Audition Song: Thank You For The Music
Harry Bright – May be Sophie's father. In his youth he used to be a bit wild, played rock guitar and had the nickname "Head-Banger", but now he works for the Bank of England and leads a more conservative life. Age: 40s. Voice Type: Tenor (C#3 – F#4). Audition Song: Thank You For The Music
Sky – Sophie's fiancée. He left his job at the London Stock Exchange to see the world and ended up on the island, where he's helped Donna transform the Taverna. Age: 20s. Voice Type: Tenor (E♭3 – A♭4). Audition Song: Lay All Your Love On Me.
Tanya – One of Donna's best friends, she was formerly in a band called "The Dynamos" with Donna and Rosie. Has benefited from having had three very wealthy husbands. Age: 38. Voice Type: Alto (E3 – C#5). Audition Song: Does Your Mother Know
Rosie – Also one of the former Dynamos and one of Donna's best friends. She'd love to be in a lasting relationship, but has never met the right man to settle down with. Age: 40. Voice Type: Alto (E3 – C#5). Audition Song: Take A Chance on Me
Minor Roles (2 female and 2 male) and Ensemble
There are four minor characters who all have individual lines of dialogue during the show and also perform with the Ensemble: Ali and Lisa (Sophie's friends) and Pepper and Eddie (Sky's friends, who help out at the Taverna) are all aged in their early 20s and may be any voice type.
Audition Song: Honey Honey
The Ensemble will play islanders who work at the Taverna and wedding guests, and they sing in over 20 musical numbers both on and off stage. While there are no specific age requirements, the music and dance demands of the show mean that all Ensemble members need to be capable singers and movers. Ability to sing harmonies and/or read music a plus.
Audition Song: Mamma Mia!
Questions before you Audition?
Enter your name, email and any questions.