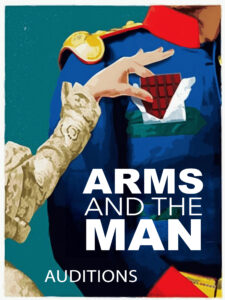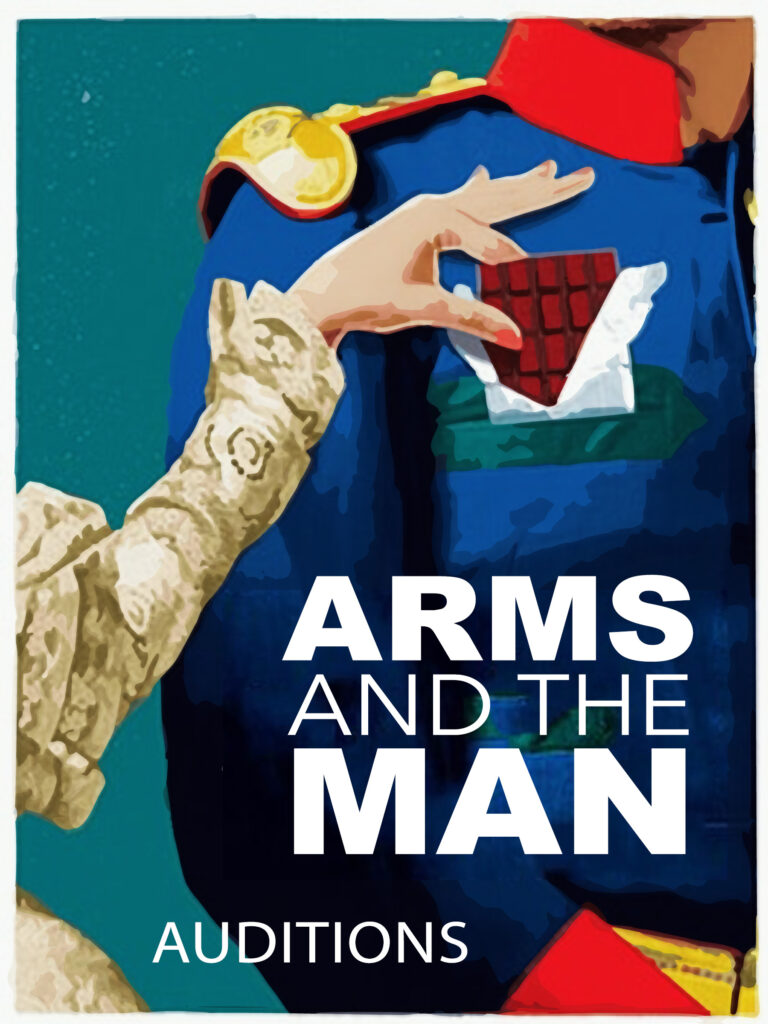 On Saturday January 29th and Sunday January 30th, we are casting for the principal cast for our 2022 play, "Arms and the Man" by George Bernard Shaw. Auditions will be held at our rehearsal studio in Fintas, between 12pm to 4pm on Saturday or 6-9pm on Sunday. (You only need to attend one audition session.)
Auditions will involve reading parts of the script as a dialogue between two main characters. There are 7 main roles altogether.
PRINCIPAL CAST: (all ages mentioned are playing ages. Actors of all ages 18+ are welcome to audition)
Raina Petkoff: She is a young lady in her 20s who is drowning in her patriotic ideals making her comically melodramatic when she dreams about the perfect soldier. She has the biggest transformation in the play as these ideals are constantly being challenged by the stories of the war survivor Bluntschli, and the rotten behavior of the narcissist Sergius whom she is betrothed to.
Captain Bluntschli: He is a young Swiss fighting for the Serbs as a professional soldier. Aging between 25-35. He is a fugitive, running away from the Bulgarian army. He seeks refuge in Raina's room. He's in touch with the reality of war, and he challenges Raina to drop her idealism. He is smart and careful, he softens his arguments because of Raina's generosity. He shows nobility by returning to thank Raina after she saved him. This role has a good balance of comedy and serious dialogue.
Sergius Saranoff: Ages between 25-35. He is fraud Bulgarian cavalry officer. He thinks highly of himself even though he won the battle by luck. He is over the top and talks like a poet. He's betrothed to Raina, but he is unfaithful as his eyes are set on Louka. When he suspects Raina is being unfaithful he makes a fuss and becomes a hypocrite. This role requires a smart comedic actor who can demonstrate Serigus' narcissism and ignorance while still being over the top.
Catherine Petkoff: Raina's mother, a woman in her 40s. She acts like an Aristocrat but she does it poorly because at heart she is peasant. A show-off, she feels the need to tell everyone about how fancy her house is, to the point that she brags about having an electric bell, and a library which clearly, she did not read a single book from. She helped Raina save Bluntschli and her objective is to keep it a secret from her husband.
Paul Petkoff: Raina's father. He is a Major general in the Bulgarian army. His age is between 45-50. Unlike his wife, Paul does not have any sense of etiquette. He is rough, loud and incompetent of doing his job. He is clueless of the drama Catherine and Raina are hiding from him, but when he discovers it he resolves it peacefully.
Louka: A young housemaid in her 20s. She serves the Petkoffs but she is very proud and defiant. She refuses to see Raina as a superior to her. She's so arrogant that she accuses the butler of having "the soul of a servant." She is also cunning. she manipulates Sergius, shaming his dignity and courage to get him to marry her.
Nicola: The Butler, happy to be serving the Petkoffs. His age is between 35-45. Nicola has the Wiseman archetype he is very reasonable and protective of the family's secrets. He does not live in fantasies like the other characters. He tries to save Louka from her illusions and in return she insults him, but it does not affect his patience and good character.
REHEARSALS / PERFORMANCES
Rehearsals for the principal cast of 8 will take place Sundays and Tuesdays from 7pm – 9pm, and Saturdays from 12pm – 4pm, leading up to the performance late March / early April.
AUDITION LOCATION
Auditions will take place at the SIK Studio in Fintas. Please contact us if you don't have the location and we will send you a pin. Please arrive at 12 noon on Saturday or 6pm on Sunday.
QUESTIONS
If you are interested in joining the auditions please sign up below, and feel free to ask any questions ahead of attending.
Questions before Auditioning
Enter your name, email and any questions.