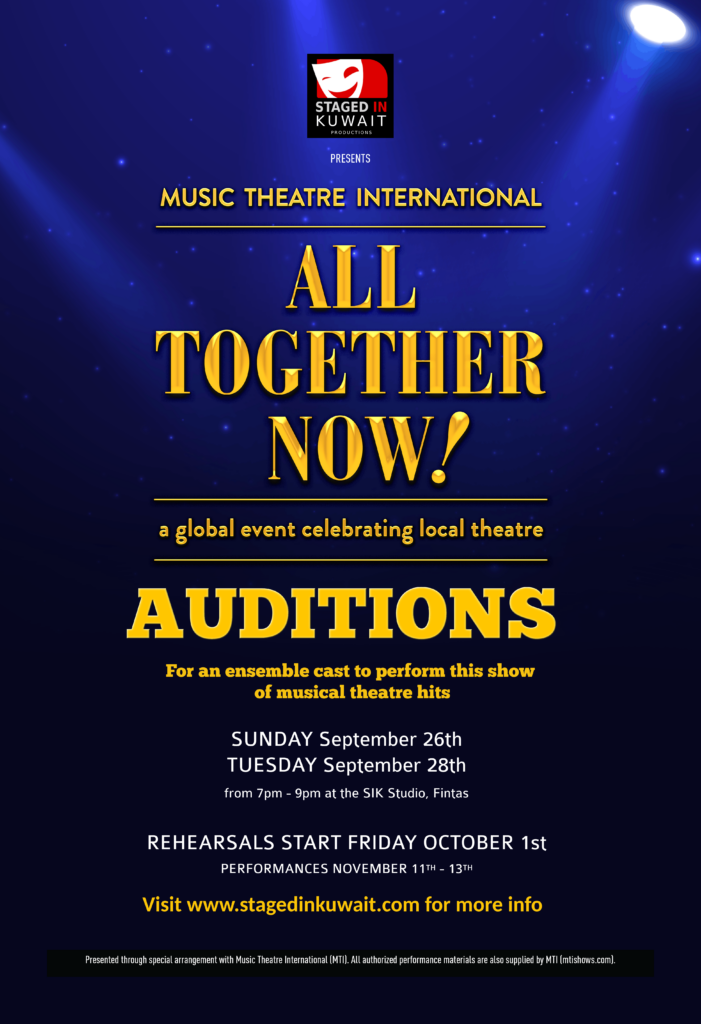 A Musical Theatre showcase opens our new season in November and we need a cast of enthusiastic singers to belt out some fantastic showtunes.
MTI's All Together Now! – A Global Event Celebrating Local Theatre is an opportunity for schools and theatres around the world to locally produce and perform an exclusive musical revue featuring songs from MTI's beloved shows. Staged in Kuwait are delighted to be representing Kuwait in this International event and hope to form a cast showcasing the best talent available in the country.
SOLOISTS and FEATURED VOCALISTS
Auditions for soloists/featured vocalists will be held on September 26th and 28th at our rehearsal villa in Fintas (map link below) from 7pm – 9pm and then the first rehearsal kicks off on October 1st.
Auditionees should prepare a 1 minute cut of a Musical Theatre song of their choice to sing at the audition, (and have a backing track on a USB drive if required.)
Auditions will include singing and a little light dance/choreography but are always fun and friendly so don't fear if you haven't auditioned with us before.
JOIN WITHOUT AN AUDITION
ANYONE is welcome to be part of the ensemble cast. No audition necessary. Our season opener is about getting YOU involved and showing you how much fun community theatre can be.
If you don't want to audition as a soloist you just need to sign up using the form below and turn up to the first rehearsal on Friday October 1st at 2pm. (map link below) Rehearsals will be Tuesday evenings (7pm – 9pm) and Friday afternoons (2pm – 6pm)
A Sunday evening rehearsal will be required to rehearse Solos, Duets etc. for featured vocalists.
QUESTIONS?
If you have any questions please feel free to contact us via WhatsApp using this link or send your questions by email using the form below.
AN EXCITING LINE UP
Spotify user? Check out the song list for this exciting INTERNATIONAL production that will be performed in thousands of theatres, across the world, on the same weekend.
It's going to be something special.
Enter your name, contact details, and briefly tell us about your previous theatre experience (if any).