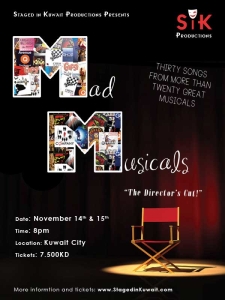 SIK are thrilled to announce that tickets for 'Mad Musicals – Director's Cut' are now available. They thought it was all over but Mad Musicals rises from the ashes with an unbelievably talented cast and thirty great numbers from musicals, stage and screen.
For the first time in MM history the show moves downtown to a new Kuwait City location, opening on November 14th and running for just two nights. Tickets are already selling fast so don't miss out. Book your seats today and enjoy a truly wonderful night of LIVE THEATRE in Kuwait featuring some brilliant songs from new and old musicals.
From West Side Story to Avenue Q, The Book of Mormon to Oliver. We will cover numbers from more than twenty West End and Broadway shows, introducing you to the cream of Kuwait's talent.
Now in its eighth year, Mad Musicals has always proved to be a highlight of the Kuwait theatrical calendar so get your tickets now and join us in November for a fun evening of Song and Dance.
[fusion_builder_container hundred_percent="yes" overflow="visible"][fusion_builder_row][fusion_builder_column type="1_1″ background_position="left top" background_color="" border_size="" border_color="" border_style="solid" spacing="yes" background_image="" background_repeat="no-repeat" padding="" margin_top="0px" margin_bottom="0px" class="" id="" animation_type="" animation_speed="0.3″ animation_direction="left" hide_on_mobile="no" center_content="no" min_height="none"][gravityform id="3″ name="SIK Ticket Request Form" ajax="true"]
[/fusion_builder_column][/fusion_builder_row][/fusion_builder_container]