Calling all theatre lovers and performing arts enthusiasts. Come find out how to get involved with the country's busiest theatre community this season!
Whether you are an aspiring first-time performer, or a seasoned pro we'd love to meet you. As would we if you are a designer, seamstress, musician, painter, or creative of any type. Together we take work form the page to the stage. And it's a LOT of fun. Whatever your field of interest or expertise, your local theatre community can use you. So what are you waiting for? Come get INvolved!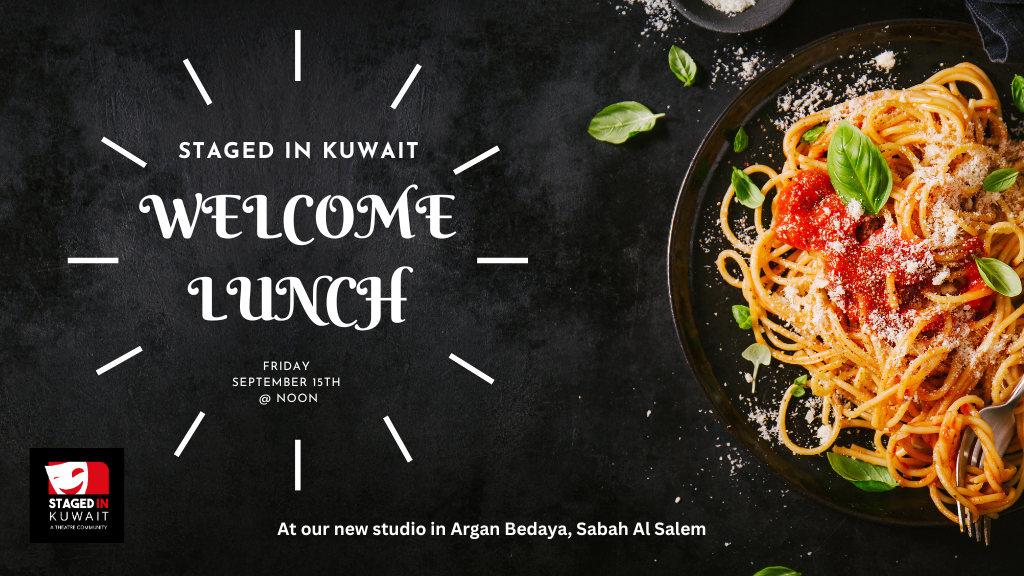 Our Twelfth season kicks off with our traditional "Welcome Lunch" at our brand new studios in Argan Bedaya, Sabah AlSalem.
WHEN: Friday September 15th – 12.00pm (noon)
WHERE: SIK Studio, Argan Bedaya, Block 1, Sabah Al Salem.
Join us for an informal meet and greet lunch, followed by a discussion about all the activities you can look forward to in our upcoming season. It's a chance to meet new and old friends, find out what SIK has planned for the months ahead, ask questions, and volunteer. It's the perfect start to a new year of community theatre and we'd love to see you there!
Whether you are a returning member, an audience member who is keen to get more involved this season, or completely new to Staged in Kuwait – come along and say "HI!" We are a friendly bunch of theatre-lovers, always happy to welcome new members so don't be shy.

Come learn about the shows we have planned, our social events and classes. Talk to tutors, volunteer department heads, and performers and discover ways YOU can be part of your theatre community this season.
Open Mic nights, Improv Comedy shows, a Shakespeare Company Tour, The Christmas Pantomime, Kids drama club, Adult workshops, FilmLab classes, and a whole lot more are on the menu for Season Twelve, and we are ready to spill the beans on everything we have planned.
All we need is YOU!
Sign up below to let us know you're coming, so we can cater seating and catering. Nothing brings people together better than food! Except, perhaps, theatre!
Please complete all fields.
We look forward to seeing you on Friday 15th at noon!