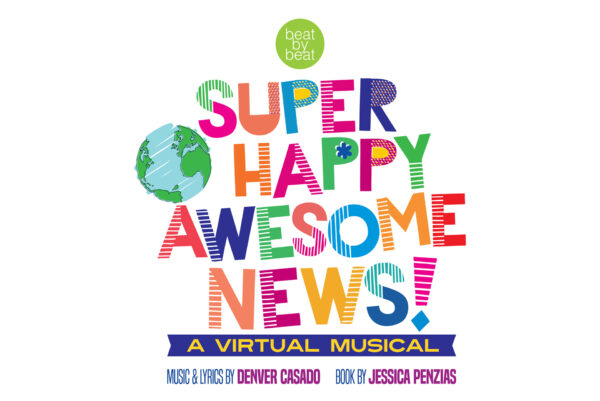 On Sunday, June 28th, we kick off a brand-new project for 6 to 12 year-olds, Super Happy Awesome News, a brand new virtual musical from the writers of 'The Show Must Go Online' and you still have time for your kids to join us on this adventure.
SHOW SYNOPSIS:
Two siblings launch rival good news networks and find themselves competing for the title of happiest news show. Soon, their correspondents are in a whirlwind of ecstatic musical reporting – from joyful weather forecasts, to cheerful cooking segments and blissful political updates! But, when vulnerability starts peeking through the euphoric facade, they're left wondering: is there room for raw honesty on a super happy broadcast?
As well as the script and songs the show incorporates real stories from the performers, offering an outlet for them all to express their emotions as they work together, virtually, to create another 'Awesome' virtual musical.
Commitment / Rehearsals:
The rehearsal format will run over four weeks and follow the schedule of our previous production. Students all join a weekly ENSEMBLE call every Sunday (from 2pm – 3pm) and have an assigned, 30-minute tutorial session once each week where they will work on their own scenes with me, and other students assigned the same character. (The full tutorial schedule will be given out after casting, but sessions will run Sunday to Thursday between 3pm and 5.30pm.)
In addition to the fixed rehearsals, our Drama Zoom will be open DAILY from 2pm – 3pm for kids to just drop in and ask questions, rehearse together, or just hang out to feel part of the team.
Outside of classes, students are expected to work independently to learn their lines, rehearse their parts and improve week by week as they work towards their final video performances. Developing 'drama-kids' who know their rehearsal schedule, understand the discipline needed to learn lines, and take responsibility for their participation, is a big part of what makes drama education so valuable for students. We welcome all parents support in instilling these skills into your children during this project.
Filming and Uploading:
Performances will all be captured on video and edited together to make the final show (Like The Show Must Go Online). Students will be expected to submit a Dress Rehearsal video by July 18th, and then, following final tutorial feedback, a final performance videos which must be uploaded no later than the 25th of July.
The final production will be released for Eid at the start of August.
Parental help in the filming and uploading of student videos is a big part of what makes virtual drama work and we do our best to provide clear email instructions to ensure that you know how to help your child film and upload at each stage. We use a Google Drive for all submissions and student videos should never be sent via Whatsapp or email. If you haven't used Google Drive before and are joining this project it might be worth creating a free Gmail account for yourself (or your child) to make it easy to access the show's Shared Drive.
How To Sign Up!
The first read through and 'casting' session, will take place on Sunday June 28th at 2pm over Zoom. The Zoom link, and a link to the Shared Drive with the script and music, will be provided after you confirm your child's place with payment. Fees are 50KD per child with 20% discount for multiple children from the same family. We are also offering subsidized costs for families facing financial hardship*.
Please sign up using the form below and within 24 hours you will be sent a link to make your payment and confirm your child's participation.
[gravityform id="11″ title="false" description="false" ajax="true"]
After payment, you will receive an email with all the required links within 48 hours. (Please contact us if you don't.)
*PANDEMIC SUPPORT
As promised, due to these unusual times, SIK are committed to a Pay-What-You-Can pricing model for parents who are facing financial hardship due to the pandemic. We don't want students to miss out. On our payment link you can set the amount to pay. If you need to adjust the total to fit your pandemic budget, we fully understand. Pay-What-You-Can. No questions asked.
OLDER KIDS / YOUNGER KIDS?
If you have children under six, or teenagers, we are still finalizing our new projects for them and will be in touch soon. Older and younger siblings are of course very welcome to get involved with students signed up for this project (in fact we encourage it) but will not charge for these students as we hope to confirm dedicated programs for the under 6s and over 12s very soon.