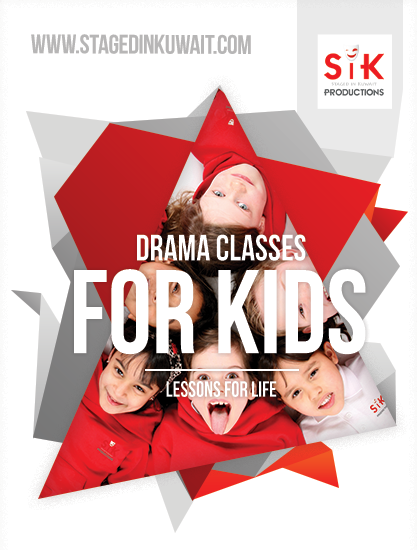 Our much loved drama classes for kids and teens are restarting in October and you can sign up your students now! With classes available for ages 4 – 18 we have classes for everyone so come and see how a drama class can help your child build their creativity, social skills, discipline, and self-confidence.
As well as our regular classes in English, (run by SIK Founder, Tim Waddell), this year we are also able to offer bilingual (English/Arabic) classes for students with weaker English. These will be led by Kuwaiti TV presenter, director, and actor Dima Alansari who joins SIK as a new partner for our tenth season.
If you would like your children to get involved in the new term you can sign up below. We have a maximum of 12 students per class so don't miss out. Classes usually fill up fast.
FEES, TIMES, LOCATION
Fees are 40KD per child, per month and courses run weekly during school term times, with one class per week based on age group. An exact schedule of timings for your child's weekly session will be provided after registration.
All classes run from our new rehearsal villa in Fintas, Block 4.
2021/2022 CLASS SCHEDULE
DRAMA STARTERS: 4 – 5 year olds

Costume play, puppets, mime, songs, dance, storytelling and an introduction to acting.
SIK KIDS: 6 – 8 year olds

Voice and body control, movement, acting emotions, improvising and theatre 101

Mondays

or

Tuesdays

5pm to 6.30pm
SIK KIDS: 9 – 10 year olds

Voice and body technique, movement, improvising, learning lines, performance and theatre 102
SIK KIDS

: 11 – 12 year olds

Voice and body technique, movement, improvising, learning lines, performance and theatre 102

Tuesdays

5pm to 6.30pm
SIK YA (Young Adult): 16 – 18 year olds.

Practical drama studies in support of, or in place of, IGCSE and A'Level level exams.

Monday

evenings 7pm – 8.30pm
Class days and times advertised may change based on subscription numbers. We will always do our best to work around your child's other activities but once committed, we do require regular attendance from all students as they will work together as a team during the course.
REGISTER NOW!
Interested in registering your child/teen for the new term? Complete the form below and you will be at the top of the queue as soon as we start building new class lists.
ADULT DRAMA?
Looking for drama classes for adults? We've got you covered! Come and join the fun Monday Nights from 7pm – 9pm with Dima Alansari as she works keen thespians through a Drama 101 in everything from breathing, voice, creating character, staging and acting for stage and camera. Adult classes are 10KD per session with a commitment to a 8 week course. To sign up please follow this link.