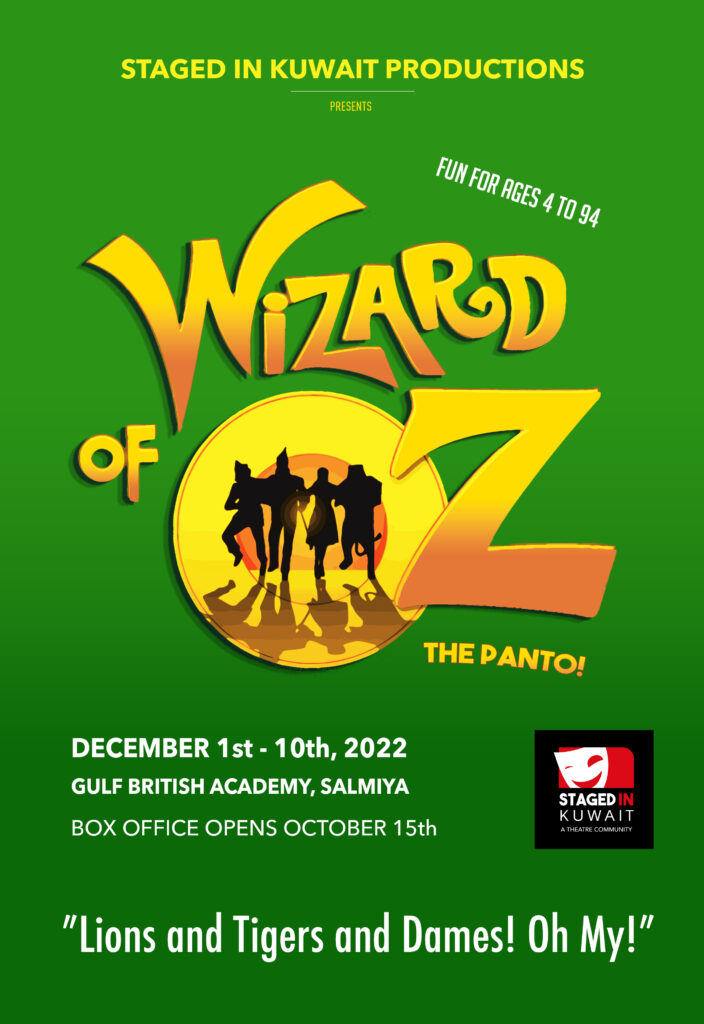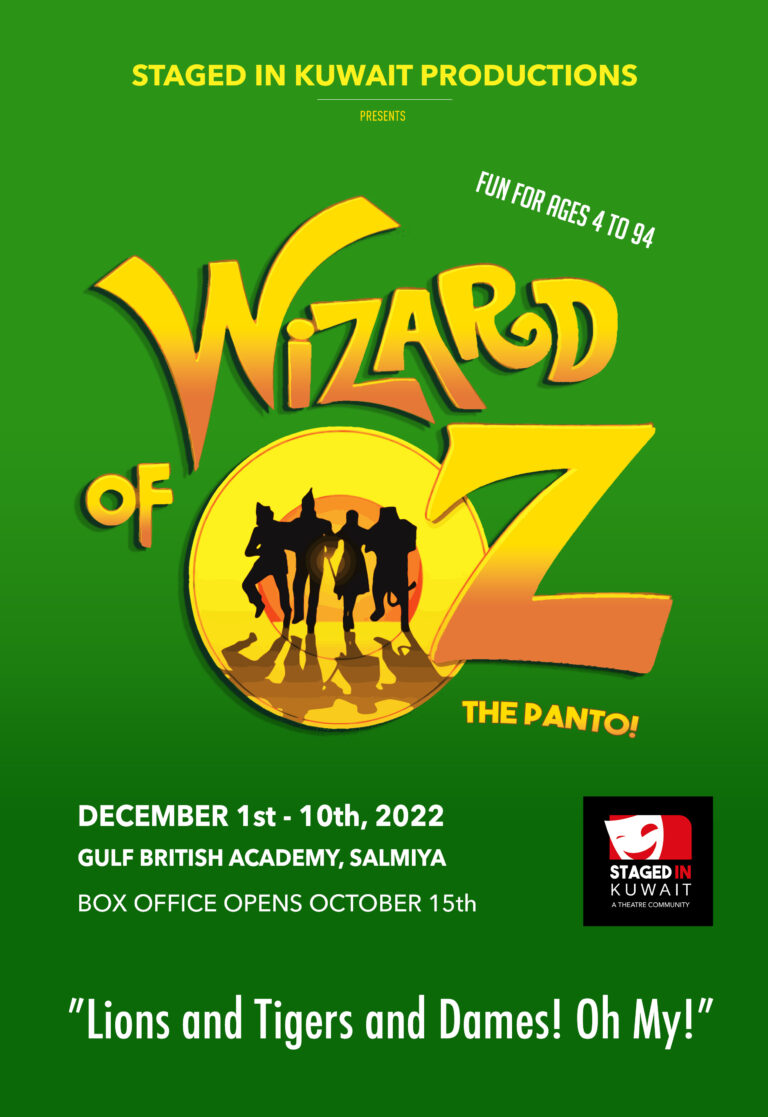 Doesn't everyone know the story of Dorothy who gets whisked away, in a tornado, to the magical land of Oz? Now add all the fun of a traditional, British pantomime to that story; audience participation, slapstick comedy, music, magic, mayhem! Can you imagine the fun?!
"Wizard of Oz The Panto" is packed with everything that families have come to expect from our end of year shows… and more! A fabulous night of live theatre for ages 4 to 94!
Come and be a part of something special, as we build the cast, crew and creative team who will deliver our December pantomime for 2022. It's going to be an adventure!
IN A SNAPSHOT
We're looking for a cast of around 20 adults (aged 16+) to perform and a creative team to handle everything from design to execution.
Auditions will be held Friday 16th, and Sunday 18th September with callbacks on Tuesday 20th
Rehearsals will commence Friday September 23rd
Mandatory Tech Weekend week will be 24-26 November 2022
Performances Dec 1/2/3 and 8/9/10 2022 at the GBA Theatre, Salmiya
PERFORMANCES
Performances are planned over two weekends, December 1st – 3rd and December 8th – 10th in the sparkling Gulf British Academy theatre.
REHEARSAL COMMITMENT
Rehearsals, at our Fintas studio, will take place on Sunday and Tuesday evenings (7pm – 9pm) and on Friday afternoons from 2pm – 6pm beginning Friday September 23rd. A full schedule of rehearsals will be provided upon casting and you will only be called to rehearsal when needed.

For Ensemble members, commitment will initially be just Friday afternoon rehearsals until mid November when all cast will be required at all rehearsals.
Technical Rehearsal Weekend – for all involved – will be November 24th / 26th.
Please have all calendar conflicts for the rehearsal period available to note on your Audition Form. If you are unable to make the mandatory Technical rehearsal weekend we will be unable to cast you in this production.
AUDITIONS
All roles are open for audition (character breakdowns below) as well as places for a singing/dancing ensemble. Auditions will take place at our rehearsal studio in Fintas (SIK Studio map) on the following days:
AUDITION DATES
Friday September 16th: 2pm – 5pm
Sunday September 18th: 7pm – 9pm
CALLBACKS: Tues September 20th: 7pm – 9pm
You only need attend one audition (Friday or Sunday) You may be called back on Tuesday 20th for a final audition.
AUDITION FORMAT
Auditionees should arrive for a prompt start at the beginning of the session for an introduction to the show.
You can will be asked to complete an audition form detailing and decided if you wish to audition for a principal character or just an ensemble role.
As a group all auditionees will be taught a short section of a vocal track and a movement/dance routine. No prior dance experience or training is necessary. Just bring confidence!
Auditionees wishing to audition for principal character roles will be asked to sing up to one minute of a fully memorized song that showcases their voice. (Please bring a backing track or web link to sing with.) Only Dorothy has to be a strong singer, although there are potential songs for all characters.
In addition to your prepared song, principal auditionees will be given a few vocal drills to determine vocal range and harmonizing skills.
After vocal and dance, auditionees will be asked to look at scenes from the script, in duos or groups and auditioned from these sides. (Sides are not available ahead of time.)
PRINCIPAL ROLES
DOROTHY – (Age 16 – 25) [F] The heroine. A feisty young lady with a sense of adventure.
AUNTIE EM – (Any age) [M] Panto dame, comical, larger than life, Dorothy's guardian dragged along for the ride
SCARECROW – (Any age) [M/F] Panto comic, friendly and floppy and good at physical comedy. A hapless brand-chaser who needs to wisen up.
LION -(Any age) [M/F] A wannabe singer scared of his own voice, and everything else. A comedic / dramatic role.
TINMAN– (Any age) [M/F] A heartless soul with a sharp tongue who needs to feel loved. Anyone have a heart?
WIZARD of OZ – (Any age) [M/F] The mystery behind the curtain
GLINDA the GOOD – (Any age) [F] The greatest fairy of them all. Powerful and confident but a little ditzy.
WICKED WITCH of the WEST– (Any age)[F] The panto villain, rotten to the core and only scared of water. Oh no she's not!
ENSEMBLE – Rural villagers, flying monkeys, Munchkins, Ozians.
CHILDREN – Munchkins
CREATIVE TEAM
Keen to get involved but not a performer? There are a hundred ways to be involved with a production from design, build and tech to performance night. Whatever skills you have, we can use them and teach you some new ones too!

Come be a part of the team that builds another fantastic SIK panto. Sewer, painter, prop-maker, technician, whatever you want to try your hand at – we're ready to have you. Send us a message using the form below and let know you are keen to join our production team and we'll send you details of the first team get together. And, of course, you are welcome to come sit in on the auditions and be a part of the show right from the start!
Enter your name, email and any questions.