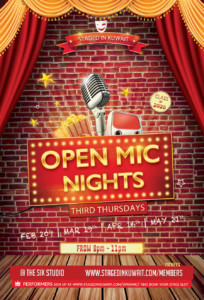 The Monthly SIK Open Mic Nights are for SIK Members and their invited guests but we are always keen to welcome new performers.
Performers get entry at member rates (5KD) and you can book your ticket below to confirm your performance slot.
If you would like to invite guests please direct them to our booking page https://SiKtkts.com where they can get tickets to come and see you perform. Tickets for non-members/non-performers are 10KD each, (soft drinks and ice creams included!)
Book Your Performer Ticket Now!
Once you have your ticket booked your performance slot is confirmed and we look forward to welcoming you to the next Open Mic Night and cheering you on!
WHY DO WE CHARGE PERFORMERS ?
Some performers are a bit put off by the fact that we charge them a fee so let me explain our rationale. We are not a bar, making money selling drinks and hosting an Open Mic as a way to draw in customers. We are a non-profit, community theatre group, doing all we can to provide a platform for performers in the country to practice, grow and enjoy performance in front of a live audience.
Funding that goal is a responsibility shared by our members and participants as all the funds we raise from events, such as Open Mics, help finance future productions, pay our studio rent, and keep us running.
We would love to be able to provide everything for free but we sadly can't. Our 'membership' is made up of artists and performers who enjoy stage time and so a fee for participation helps us cover the cost of making the activity happen for them.
That's the bottom line in the community/amateur theatre world. We do it 'cause we love it. And hobbies cost money. 😊 We hope our that the price of a couple of coffees doesn't put you off joining us for a really good night of live entertainment.