Thanks for signing up for SIK Kids classes. We have just sent you an email containing a three-digit Student ID number for each student you have registered. This number will be needed to book a seat in the classes of your choice.
If you are ready to confirm a spot now you can do so by paying a deposit of 25KD per child. Balance of term fees will be billable during the term – and full details will be sent by email after registration.
To confirm a seat in a class, click the button below and choose an available square for the date/time of the class you would like to enrol. At checkout, enter the child's name and ID number for each class picked, and then checkout to settle the deposit and confirm your spots! (If there are no seats available for your child's age group we will keep you on our waiting list and notify you as soon as there is new availability.)
*Please ensure that you have your child's Registration Number ready before you start a booking. Contact us if you have not received our email – or Register Here.
NOTE: All classes run from 5pm  – 6.30pm except for SUNDAYS when classes run from 4pm – 5.30pm. 
Classes all take place at Argan Bedaya, Sabah Al Salem. Full details will be sent upon registration.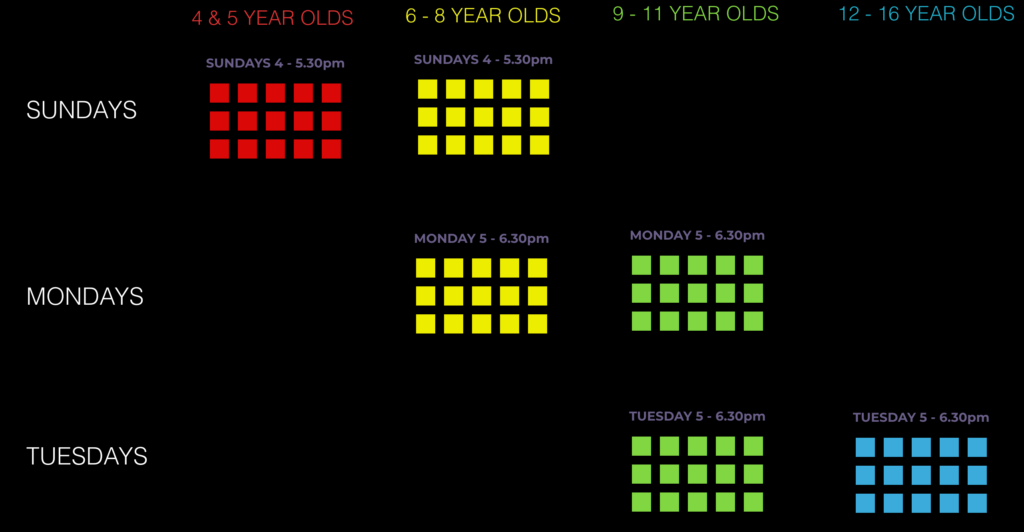 When you click the button below you will see available seats in classes by day, colour coded by age group.
4 – 5 year olds – RED
6 – 8 year olds – YELLOW
9 – 11 year olds – GREEN
12 – 16year olds  – BLUE
Click a seat to reserve a spot and then follow the prompts to enter your student ID and pay the deposit.