UPCOMING EVENTS FROM YOUR THEATRE COMMUNITY
As the world slowly starts to recover we are excited to be able to once again bring some live theatre events back to the stage in Kuwait starting this month with an IMPROV comedy night on March 18th, and a George Bernard Shaw Comedy on March 24th/25th. Also, this week, we kick off our summer musical, Mamma Mia! with auditions to find the perfect cast.


Find out more below and please come get involved with your local community theatre. We've missed you terribly!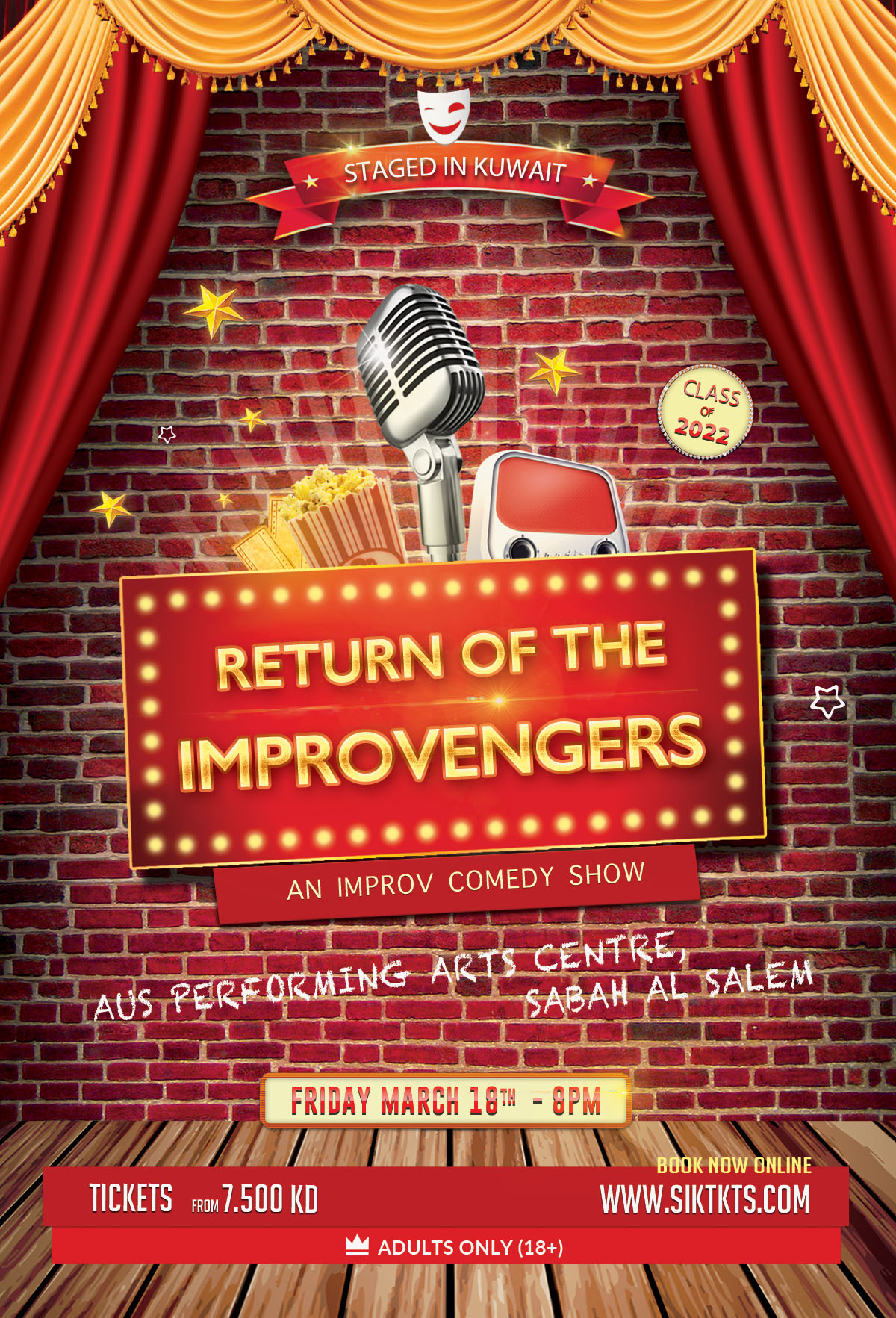 A brand new team, a brand new show, all the same improv mayhem that only YOU can create with your audience suggestions! Tickets start at just 7.5KD for our first show back. Book now online at https://siktkts.com (Adults only 18+)
Our summer musical plans get underway this week with auditions for the wonderful ABBA musical, Mamma Mia!


We are looking for singers, actors and dancers to join the cast. Full details now available on our website. Auditions Sunday 6th and Tuesday 8th March fro principal characters and Friday 11th March for Ensemble.
DRAMA CLASSES
Our drama classes for children aged 4 - 15, and adults,
are in full swing for 2022 but it's not too late to sign up! There are a few places still available.
COMING SOON: ARMS and the MAN
As a new war breaks out again in the world and we pray for the people of Ukaraine,

George Bernard Shaw's 'Arms and the Man', could not be a more timely first play for SIK to stage following the pandemic.




Set during the Serbo-Bulgarian War of 1885, Shaw's three act comedy takes a critical look at the romanticizing of love and war, the challenges of self-reflections, and the gray world of absolute truth.
Performances, directed by Kuwaiti director

Hassan

Hajjiya, are slated for March 24th / 25th. Box office will open soon. Mark your diary now!