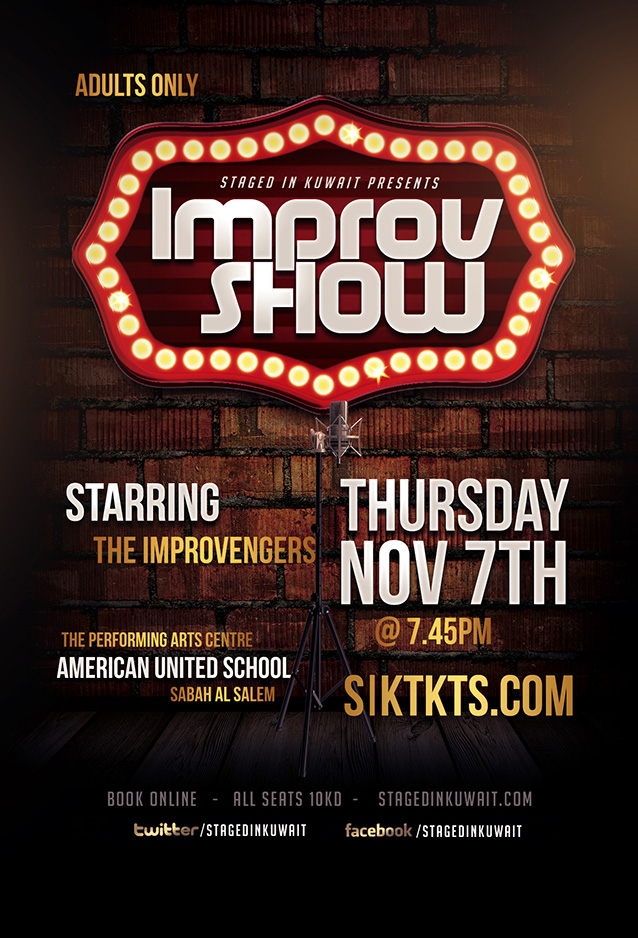 Hi [subscriber:firstname | default:reader],
How does a night of Improv Comedy sound? What if we promised you some new faces, some fantastic old faces and the chance to Spin the Wheel and win a car? (Well, forget the last part but the rest is true!)
Yes, this weekend - Thursday November 7th - The IMPROVengers are ready to take you on. All your suggestions are just the beginning as we promise an entertaining evening sure to put a smile on your face and launch you into the weekend.
WHERE: Ame
rican United School's fabulous Performing Arts Centre. Sabah al Salem.
WHEN: Thursday, November 7th at 7.45pm
Tickets are available now from SIKtkts.com. Book your favorite seats online now and checkout with Credit or Debit card, securely with TAP Payments. 25% discounts available to SIK Members.
And if you still feel short changed about the Wheel Spins... spin this wheel and let us know in the comments on our Social Media which games you want to see this weekend. It's all in your hands and we can't wait to see what you've got in store for us.
We look forward to seeing you Thursday!