On Friday October 15th we are casting for the principal and ensemble cast for our 2021 pantomime, Dick Whittington. Auditions will be held at our rehearsal studio in Fintas, between 12pm to 2pm.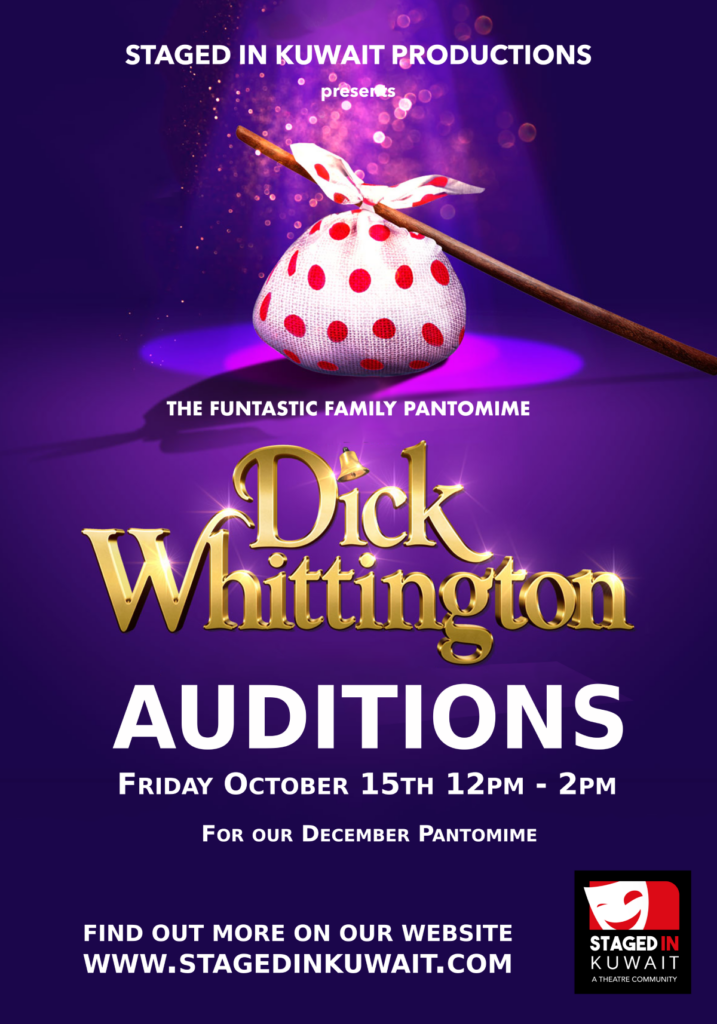 Auditions will involve a cold reading from script sides and if you are auditioning for a singing character (listed below) we will ask you to sing a 1 minute cut of a song of your choice. There are 8 principal characters and we will also be looking for a 20 strong singing/dancing chorus of Villagers/ Rats/ Sailors / Courtiers.
Actors wishing to audition for Principal Roles should attend ready to start at 12 noon. For those wishing to audition only for the Ensemble please arrive for 1pm.
THE PRINCIPAL CAST
KING RAT. King Rat is one of the best baddy's roles in pantomime. Rats are central to the story of Dick Whittington – and of course there is such natural opposition between rat and cat. King Rat is bombastic and pompous – an actor king, who relishes the verse his part is written in. He does not have to sing solo and so this is a great role for a talented member of your company who prefers not to be too exposed in the musical line-up!
FAIRY BOWBELLS. Could be any age. Bowbells is a London Fairy and needs a bit of attitude – after all, she has to give King Rat a dose of the trots! Like him, she needs to be able to bring out the comedy in the verse – and again, like King Rat, she does not have to sing solo.
TOMMY THE CAT. This part is non-speaking, but requires a certain feline grace. Obviously, good movement skills are important, but just as important are acting skills. Actors can feel cheated not having any lines, but a good Tommy, she will steal the show! The playing requires clarity and quicksilver thought, as Tommy's emotional barometer is up and down with childlike speed.
FITZWARREN/HORATIO/EMPEROR. This is a meaty challenge for a versatile actor. Whilst he requires verbal dexterity and the ability to differentiate clearly between the characters, he also needs lots of pace and attack. He is often the engine in a scene and you need an actor who will take that responsibility and keep driving things forward. However, he is involved in much of the comedy and he will have great fun doing so. A good singing voice would be a bonus, but it is not essential.
ALICE FITZWARREN. Alice is a strong, quick thinking young woman who knows how to manipulate her father and is not afraid to take him on. She is Dick's love interest but doesn't want to be soft and sappy. It is important that she has a strong singing voice.
IDLE JACK. One of the key comedy characters. Although lazy, Jack needs to have plenty of pace and attack and must establish a strong rapport with the audience. S/he should have a degree of 'boyish' charm. A good singing voice is required.
DICK WHITTINGTON. Can be played by either a boy or a girl. Dick is a young man who comes to London from the country to make his fortune. He is bright, open and inclined to think the best of people. Whilst we must absolutely believe in his love for Alice, his relationship with Tommy is, of course, equally important. He should have a pleasant and confident singing voice.
SARAH THE COOK. Sarah is the dame and should be played by a man. She is generous, optimistic and man hungry. It is important that the actor chosen has an inner warmth and is confident and relaxed with the audience. Obviously, this is a comic role and it is vital that the actor also has a good sense of the ridiculous coupled with natural comic timing, and an ability to sing.
REHEARSALS
Rehearsals for the principal cast of 8 will take place Mondays from 7pm – 9pm, and Fridays from 12pm – 2pm until mid November and then continue Sunday and Tuesday evenings, and Friday afternoons for the final month up to the performances on December 9th – 12th.
Ensemble rehearsals will be mainly Friday afternoons starting mid November. (After "All Together Now" ends)
If you are interested in joining the auditions please sign up below, and feel free to ask any questions ahead of attending.
Please complete all fields.