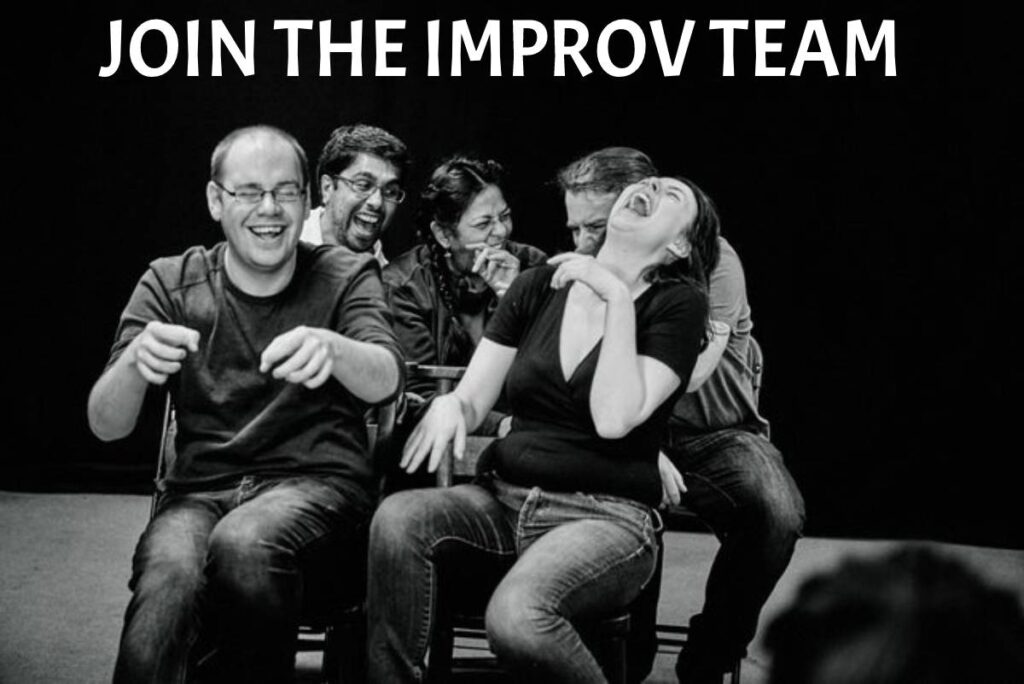 Improvisation is great skill to master but can be challenging even for confident performers.
Come and learn how to become a better improviser and earn your place on our performance team this season. Our Improv Class meets every Wednesday night from 7pm – 9pm and for new members costs 10KD per class. The top students will earn a place in our performance squad, The IMprovengers.
We start the term with an eight week Improv course, which includes your chance to appear in our first Improv Comedy night in October. But, more importantly, the course walks you through the basics of building improv scenes.
The course covers the following key areas over 8 weeks:
OPENERS – Tips and tricks for starting an engaging scene.
YES AND… – Listening and Responding.
PLAYING REALITY – Learning not to be funny!
ESCALATION – Building a scene that goes somewhere.
PHYSICALITY – Using actions to create environment.
CHARACTER – Fleshing out your improv creations. Voice and Body work.
SINGING & SOUND EFFECTS – Adding to your Improv Toolkit
CLOSING – Knowing when to end a scene.
Along the way, improvisers will be introduced to a range of performance games essential for all good improvisers, and encouraged to take on the challenge of joining us onstage in a show (not required!)
At the end of the course, strong students may be offered places in the SIK Improvengers performance team, and gain access to free Improv meets/rehearsals for the year!
October Classes, starting the first Wednesday in October, are now fully subscribed but you can join the Waiting List for places on our next course by signing up below.
Enter your name, email and any questions.