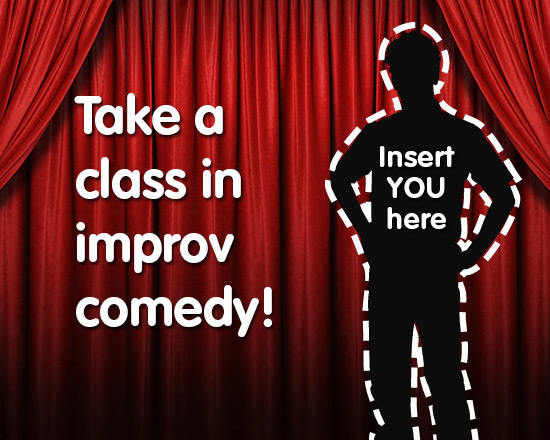 Improvisation is great skill to master but can be challenging even for confident performers.
Come and learn how to free your mind and become a better improviser, building the improv skills needed to perform live in an Improv Comedy Show.
Our Improv Classes meet on Monday or Wednesday nights from 7.15pm – 9pm (January thru May). Monday Nights is open to beginners and those with some improv experience. Our Wednesday class is a more advanced class for improvisers who already have a strong grasp of the basics of improv.
Over eight weeks, your class leader will walk you through the basics, or develop your skills in, building improv scenes, thinking fast and free, and playing as a team.
The course covers the following key areas:
OPENERS – Tips and tricks for starting an engaging scene.
YES AND… – Listening and Responding.
PLAYING REALITY – Learning not to be funny!
LISTENING – Getting out of your head.
ESCALATION – Building a scene that goes somewhere.
PHYSICALITY – Using actions to create environment.
CHARACTER – Fleshing out your improv creations. Voice and Body work.
SINGING & SOUND EFFECTS – Adding to your Improv Toolkit
Along the way, improvisers will be introduced to a range of performance games essential for all good improvisers, and encouraged to build skills and confidence required to perform onstage in a show (not required!)
FEES: The term is 80KD, billable as a 20KD deposit against the first two classes and then two x 30KD payments due during the course.
Sign up now to find out more and get on our waiting list!
Enter your name, email and any questions.