AUDITION INFORMATION – JACK and the BEANSTALK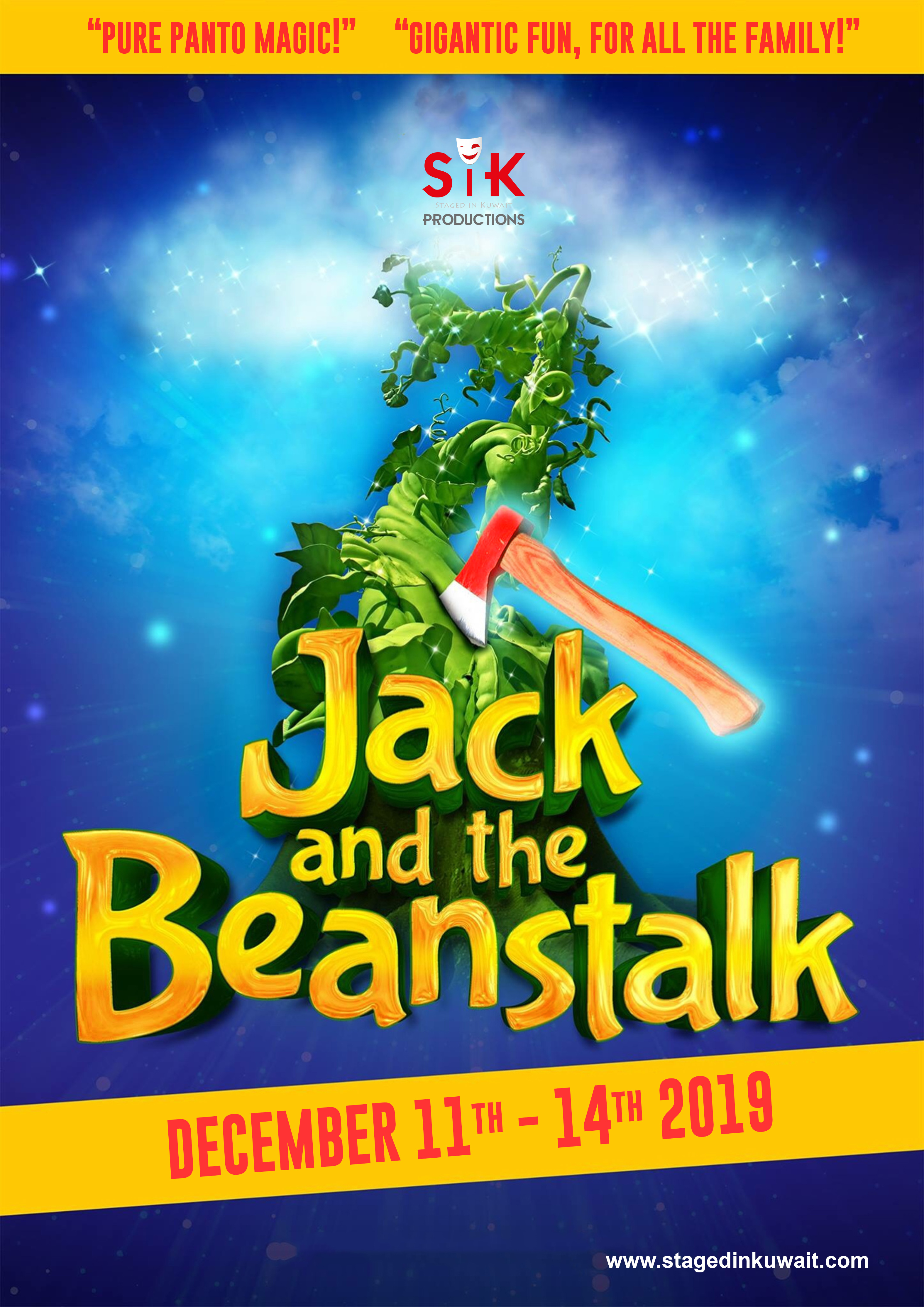 Auditions for this year's fantastic family pantomime, Jack and the Beanstalk, will be held at the SIK Studio on Tuesday September 24th (7pm – 9pm) and Friday 27th (2pm – 6pm). Performances will take place December 11th – 14th at The English School, Performing Arts Centre, Salmiya.
Rehearsals will be Sunday and Tuesday evenings (principals) OR Monday evenings (Ensemble/Chorus) with Friday afternoons (full cast ) between the end of September and December. A full schedule of rehearsals will be provided at the auditions.
SIGN UP BELOW!!
TUESDAY SEPTEMBER 24th – 7pm – 9pm
FRIDAY SEPTEMBER 27th – 2pm – 6pm
Please arrive promptly at the advertised start time of the audition you wish to attend. You only need to attend one audition session. Call backs will be on Sunday September 29th.
Auditions will take place at the SIK Studio in Adan. Click here for a map.
Street address for those arriving by taxi is Adan, Block 2, Street 88, House 2, Basement.
You do not need to prepare much! For those wishing to audition for principal singing roles you should arrive with a prepared song to sing (musical theatre or pop ballad genre). If you can have a backing track on your phone/tablet – or on a USB drive – to sing to that would be great. We will not need to hear the whole song so plan to start your track to show your voice at it's best within 16 bars (60 seconds). For those wishing to be in the Ensemble only we will ask you to sing as a group at the audition.
You will be asked to read from script sides that will be given to you at the beginning of the audition and those auditioning for Ensemble will be asked to do a few simple dance steps as a group. There is no script to lean or prepare in advance
Our auditions are kept informal so don't be nervous. We are a friendly team and look forward to seeing you.
We are casting for a small but talented cast of principle actors which include:
Jack* (m/f) The hero. May be played as a principal boy role or by a man.
Piccalilli (f) – A wicked witch
Fairy Sugardust (f) – Typical good fairy
Rancid the Ratman *(m/f) – The local rat catcher and henchman to the giant
The Giant (m/m) – The show's baddie!
King Crumble* (m) – The leader of the kingdom. A rather dopey king.
Queen Apricot* (f) – Lighter, brighter and more world than the king.
Princess Charlotte* (f) – Our young, innocent Princess and Jack's love interest
Dotty Dimple* (m) – Typical panto dame. Comedy timing essential.
Simple Simon* (m) – Typical panto comic. Comedy timing essential.
Snatchet* and Scarper* (m/f) – The Broker's men. Comedy duo. Snatcher is the dumb one!
Humphrey (f/m) – The Royal Equerry – a bit of a twit.
Buttermilk (f/m) – Costume character played by two actors
Characters marked with an asterisk (*) are ideally singing roles.
ENSEMBLE (m/f) – Villagers/Servants/Farmers. An ensemble of singer/dancers for the chorus scenes.
Additional character roles may become available based on the auditions. Come and show us what you can do and we will try and find a place to use you to your potential.